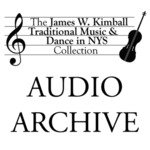 Files
Final Use Copy Filename
JKC_Caller_HamiltonMark_19880923_2_merged
Identifier
JKC_Caller_HamiltonMark_19880423_3of3
Field Notes URL
JKC_Caller_HamiltonMark_19900615_FieldNotes
Abstract
This is a square dance where the Geneseo String Band and local musicians are playing.
Cassette Video #
011_007 & 011_008
Digitization Notes
Channels begin to vary around 01:08:00; Short phone conversation on side B
KC Comments
Musicians include Jim Kimball and the Geneseo String Band (Glenn McClure; Jean Scheg; Karen Park Canning, Dan Collier, Julie Beth Findley, Pam Wolcki, Paul Studer), and local musicians Peter "Al" Mastrolio and Santo "Sandy" Consiglio, Santo Consiglio Jr. First part of recording is instrumental tunes; square dancing begins c. 18:00. Beginning of recording lists a date of 9/24/1989 by Kimball, but the recording is a dance on 4/23/1988.
Subcategory
Square Dances
Sub-Subcategory
Geneseo String Band
Ensemble Name
Geneseo String Band
Location
Linwood Grange Hall, Linwood, NY; Livingston County
Instruments
Accordion, Drums, Fiddle, Guitar
Publication Date
10-1-2021
Rights
College Archives, State University of New York at Geneseo
Source
State University of New York at Geneseo
Artists and Specialties
Marvin "Mark" Hamilton - Calling, Fiddle; Peter "Al" Mastrolio - Guitar; Santo "Sandy" Consiglio - Accordian; Santo Consiglio Jr. - Drums
Interviewer(s)
James "Jim" W. Kimball
Recommended Citation
Kimball, James W., "Square Dance with Geneseo String Band, Linwood Grange Hall, Linwood, NY, 1988 (2 of 2)" (2021). KimballARCH Audio. 32.
https://knightscholar.geneseo.edu/kimball_arch_audio/32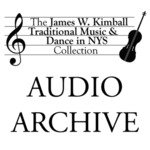 COinS