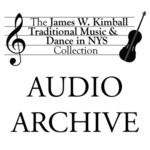 Files
Final Use Copy Filename
JKC_Fiddle_MaherClarence_19870701_91_merged
Identifier
JKC_Fiddle_MaherClarence_19870701_3of3
Field Notes URL
JKC_Fiddle_MaherClarence_19880731_1of2_AND_2of2.txt
Abstract
This is an interview with Clarence Maher who talks about his music career, how plays dances, and what dance figures he knows. Clarence also plays some recordings and some musical pieces. The recording ends with an informal concert centered around Irish music.
Cassette Video #
017_001 & 017_002 & 017_003
Digitization Notes
1. Kimball intros in stereo, rest of recording L chan mono. 2. Stereo recording. R channel drops out at 1 hour 14 minutes 3. Side A: Irish Session in Rochester. Side B: Maher interview, R channel drops
KC Comments
1. Includes a recording of Clarence playing with a caller, ________. 2. Jim Kimball announces the date at the beginning as June 1, 1987, not July 1. 3. 0:00-46:39 Irish Session. 46:45-End, Interview with Clarence Maher, likely end of 6/1/1987 interview.
Location
Artist's Home, Bergen, NY; Genesee County
Instruments
Accordion, Banjo, Fiddle, Piano
Publication Date
10-1-2021
Rights
College Archives, State University of New York at Geneseo
Source
State University of New York at Geneseo
Artists and Specialties
Clarence Maher - Fiddle; James "Jim" W. Kimball, piano
Interviewer(s)
James "Jim" W. Kimball
Recommended Citation
Kimball, James W., "Interview with Clarence Maher, Bergen, NY, June 1, 1987 & Irish Session, May 7, 1987 (3 of 3)" (2021). KimballARCH Audio. 331.
https://knightscholar.geneseo.edu/kimball_arch_audio/331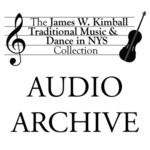 COinS