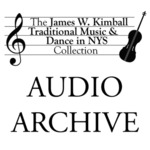 Final Use Copy Filename
JKC_HammerDulcimer_VanArsdaleSterl_199008
Identifier
JKC_HammerDulcimer_VanArsdaleSterl_199008
Field Notes URL
JKC_HammerDulcimer_VanArsdaleSterl_198908_FieldNotes.pdf
Abstract
This is an interview with Sterl Milo VanArsdale and Phil VanArsdale who also play tunes they know. Various family members are talking in the background.
Cassette Video #
022_010 & 022_015
Digitization Notes
Lots of tape hiss, hard to hear people in background; Short 14 mins on A side only
KC Comments
Various family members present, including Phil's son in law, and woman named Vivian. This recording and JKC_HammerDulcimer_VanArsdaleSterl_199008 are the same event, with this recording as 1of2 and the one (mis)labeled "199008" as 2of2. ; Same date/interview as JKC_HammerDulcimer_VanArsdaleSterl_198908_1of2; this one is mislabeled as 1990. This is the 2nd of 2 tapes for the August 1989 event.
Event Title
VanArsdale family reunion
Location
Akeley, PA; Warren County
Instruments
Hammer Dulcimer
Publication Date
10-1-2021
Rights
College Archives, State University of New York at Geneseo
Source
State University of New York at Geneseo
Artists and Specialties
Sterl Milo VanArsdale - Dulcimer; Phil VanArsdale - Dulcimer
Interviewer(s)
James "Jim" W. Kimball
Recommended Citation
Kimball, James W., "Interview with Sterl Milo & Phil VanArsdale, Akeley, PA, August 1990" (2021). KimballARCH Audio. 426.
https://knightscholar.geneseo.edu/kimball_arch_audio/426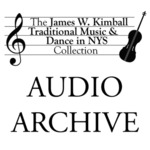 COinS