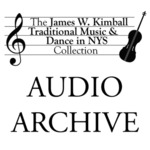 Final Use Copy Filename
JKC_Music-Dance_LadleyFred_19911124
Identifier
JKC_Music-Dance_LadleyFred_19911124
Abstract
This is an informal music performance with Frederick "Fred" Ladley and Donald "Donny" Kime.
Digitization Notes
motor noise, wow at 42:00 side A. Side B - low volume phone convo. 1:11:00 - levels return
KC Comments
Jim Kimball announces date as March 8, 1992. Music and conversation with Fred Ladley and Donny Kime at the Livingston County Nursing Home. This recording is mislabeled; the birthday party recording has the date 19920308 in its file name.
Location
Livingston County Skilled Nursing Facility Auditorium, Livingston County Campus, Mount Morris, NY; Livingston County
Instruments
Guitar, Mandolin, Tenor Banjo, Viola
Publication Date
10-1-2021
Rights
College Archives, State University of New York at Geneseo
Source
State University of New York at Geneseo
Artists and Specialties
Frederick "Fred" Ladley - Mandolin, Tenor Banjo, Viola; Donald "Donny" Kime - Guitar
Interviewer(s)
James "Jim" W. Kimball
Recommended Citation
Kimball, James W., "Jam Session with Frederick Ladley, Livingston County Skilled Nursing Facility Auditorium, Mount Morris, NY, 1992" (2021). KimballARCH Audio. 479.
https://knightscholar.geneseo.edu/kimball_arch_audio/479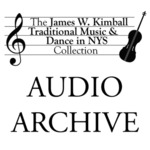 COinS