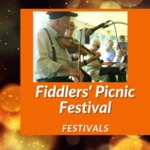 Description
This is a concert at the annual Fiddlers' Picnic Festival with Ken Bonner and Alice Colvin Clemens among the featured performers. The recording of this public event was made in full view of attendees and with knowledge by the sponsor or venue.
Event Title
Fiddlers' Picnic Festival
Event Sponsor
New York State Old Tyme Fiddlers' Association (NYSOTFA)
Location
Osceola, NY; Lewis County
Artists and Specialties
Ken Bonner - Calling, Fiddle; Alice Colvin Clemens - Fiddle, Calling
Interviewer
James "Jim" W. Kimball
Unique Identifier
JKC_Music_OldTymeFiddlerFest_198107_118_merged
Publication Date
9-28-2021
Rights
This work is licensed under a CC0 Creative Commons license.
Recommended Citation
Kimball, James W., "Fiddlers' Picnic Festival, Osceola, NY, 1981" (2021). Fiddlers' Picnic Festival. 1.
https://knightscholar.geneseo.edu/kimball-fes-picnic/1
Source
State University of New York at Geneseo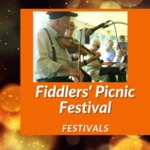 COinS