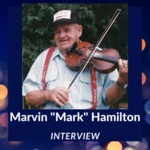 Description
There are three interviews and a performance on this recording. The first interview [0:00-3:07] is with Alice Colvin Clemens who talks about where she learned the fiddle. The second interview [6:55-9:44] is with Mr. Coykendall who talks about his calling career. The third interview [9:45-15:20] is with Mr. Cokyendall and Marvin "Mark" Hamilton," who discusses where has performed. [3:08- 6:52] Is a performance at the festival.
Event Title
Fiddlers' Fair
Event Sponsor
Genesee Country Village & Museum
Location
Genesee Country Village & Museum, 1410 Flint Hill Road, Mumford, NY; Monroe County
Artists and Specialties
Marvin "Mark" Hamilton - Calling, Fiddle; Alice Colvin Clemens - Fiddle, Calling
Instruments
Fiddle, Guitar
Interviewer
James "Jim" W. Kimball
Unique Identifier
JKC_Fiddle_GCMFiddleFair_199108_edited
Publication Date
10-13-2021
Rights
This work is licensed under a Creative Commons 0 license.
Recommended Citation
Hamilton, Marvin "Mark", "Interview with Marvin "Mark" Hamilton & Alice Colvin Clemens, Watkins Glen, NY, 1991" (2021). Interviews. 117.
https://knightscholar.geneseo.edu/kimball-interviews/117
Source
State University of New York at Geneseo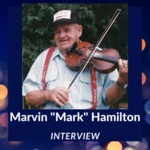 COinS