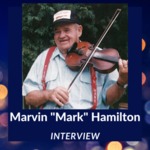 Description
There are two events in this recording. [0:00-3:10, 20:17-1:22:16] An interview with Marvin "Mark" Hamilton about his childhood and fellow musicians. [3:15-20:15] A conversation and informal music with James "Jim" Kimball and Millie Watson.
Location
Avon Flea Market, Avon, NY; Livingston County
Artists and Specialties
Marvin "Mark" Hamilton - Calling, Fiddle, Millie Watson- Bones, James "Jim" W. Kimball- Pump Organ, Fiddle
Instruments
Fiddle, Bones
Interviewer
James "Jim" W. Kimball
Unique Identifier
JKC_Caller_HamiltonMark_199x_02
Publication Date
10-13-2021
Rights
This work is licensed under a Creative Commons 0 license.
Recommended Citation
Hamilton, Marvin "Mark", "Interview with Marvin "Mark" Hamilton, Black Creek, NY, and Performance with Millie Watson, 1990" (2021). Interviews. 124.
https://knightscholar.geneseo.edu/kimball-interviews/124
Source
State University of New York at Geneseo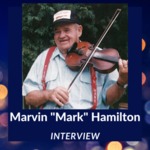 COinS