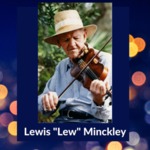 Description
This is an interview with Lewis Minckley and his family. Lewis plays fiddle tunes and songs and talks about how he learned them.
Location
Artist's Home, Holley, NY; Orleans County
Artists and Specialties
Lewis Minckley - Fiddle; Bob Minckley - Guitar; Ann Taylor - vocals; James "Jim" W. Kimball - Fiddle
Instruments
Fiddle, Guitar
Interviewer
James "Jim" W. Kimball; Karen Canning
Unique Identifier
JKC_Fiddle_MinckleyLewis_19941010
Publication Date
9-2-2021
Rights
This work is licensed under a Creative Commons 0 license.
Recommended Citation
Minckley, Lewis and Minckley, Robert "Bob", "Interview with Lewis Minckley & family, Holley, NY, 1994" (2021). Interviews. 22.
https://knightscholar.geneseo.edu/kimball-interviews/22
Source
State University of New York at Geneseo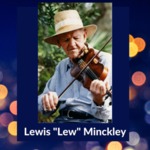 COinS