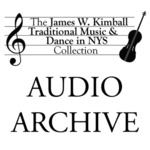 Files
Final Use Copy Filename
JKC_Fiddle_ClohecyElton_19890619_69_merged
Identifier
JKC_Fiddle_ClohecyElton_19890619_2of2
Abstract
This recording has an interview and square dance. [0:00-16:35, 1:23:32-2:27:24] The interview is with Elton Clohecy who talks possible relatives to Horace "Hod" Case. [16:36-1:32:24]The square dance has Jim Cain and Marvin "Mark" Hamilton calling.
Digitization Notes
phone interview + live music, audio levels differ, background hum during phone interview. needs AGC. hum during invterview.
KC Comments
0:00-16:35, then 1:23:32-End, (recording partially recorded over) Phone conversation with Elton Clohecy about Hod Case's music and family history. Jim also talked to Elton the previous day at Genesee Country Museum, 6/18/1989. 16:36-1:32:24, Square dance with Geneseo String Band, Jim Cain and Mark Hamilton, callers at SUNY Geneseo, possibly November 1989.
Ensemble Name
Geneseo String Band
Instruments
Accordion, Banjo, Fiddle, Guitar, Hammer Dulcimer, Machine Washbord, Spoons
Publication Date
10-1-2021
Rights
College Archives, State University of New York at Geneseo
Source
State University of New York at Geneseo
Artists and Specialties
Elton George Clohecy; James "Jim" Cain - Calling
Interviewer(s)
James "Jim" W. Kimball
Recommended Citation
Kimball, James W., "Interview with Elton George Clohecy, 1989 and Square Dance with the Geneseo String Band, Geneseo, NY, 1989 (2 of 2)" (2021). KimballARCH Audio. 242.
https://knightscholar.geneseo.edu/kimball_arch_audio/242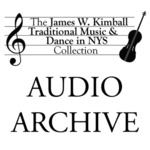 COinS