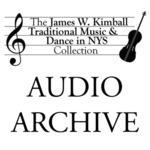 Files
Final Use Copy Filename
JKC_Fiddle_KiblerVic_19920327_89_merged_edited
Identifier
JKC_Fiddle_KiblerVic_19920327_1of2
Abstract
This is a series of interviews over three days, originally on six tapes. Some of the third day is missing.The interview is with Victor "Vic" Fountain Kibler and Agnes Page who talk about their childhood and the various music events that occurred during that period. The interview ends with Vic and James "Jim" Kimball playing songs on the fiddle.
Digitization Notes
Wow problems at end of B, lots of background noise, mic too far away from speakers, loud motor noise we can fix
KC Comments
Beyond Agnes Page, there is another woman in the recording.
Location
Artist's Home, Vail Mills, NY; Fulton County
Publication Date
10-1-2021
Rights
College Archives, State University of New York at Geneseo
Source
State University of New York at Geneseo
Artists and Specialties
Victor "Vic" Fountain Kibler - Fiddle; Agnes Page
Interviewer(s)
James "Jim" W. Kimball
Recommended Citation
Kimball, James W., "Interview with Victor "Vic" Fountain Kibler & Agnes Page, Vail Mills, NY, March 27, 1992 (1 of 2)" (2021). KimballARCH Audio. 322.
https://knightscholar.geneseo.edu/kimball_arch_audio/322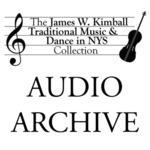 COinS