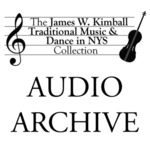 Files
Final Use Copy Filename
JKC_Fiddle_MaherClarence_1985_90_merged
Identifier
JKC_Fiddle_MaherClarence_1985_2of2
Field Notes URL
JKC_Fiddle_MaherClarence_198508_OR 1985_1of2_AND_2of2.txt
Abstract
This is an interview with Clarence Maher who talks about his career, where he performed, and the lives of the musicians who performed with him. Clarence also plays tunes and explains the history behind them.
Digitization Notes
Weird modulation/distortion on R chan @ 1:25:00
KC Comments
0:00-24:30, Jim Kimball and Clarence in a car. 24:30- 1:30:25, Interview, music at another location, (Clarence's house?), one of the first meetings between them. 1:30:25- 1:54:00 In car, en route to Geneseo where interview continues while Jim makes copies of Clarence's music book(s).
Cassette Title
Car Interview (in transit)
Location
Artist's Home, Bergen, NY; Genesee County
Instruments
Fiddle, Piano
Publication Date
10-1-2021
Rights
College Archives, State University of New York at Geneseo
Source
State University of New York at Geneseo
Artists and Specialties
Clarence Maher - Fiddle; James "Jim" W. Kimball, piano
Interviewer(s)
James "Jim" W. Kimball
Recommended Citation
Kimball, James W., "Interview with Clarence Maher, 1985 (2 of 2)" (2021). KimballARCH Audio. 328.
https://knightscholar.geneseo.edu/kimball_arch_audio/328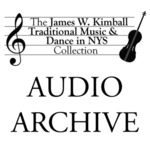 COinS