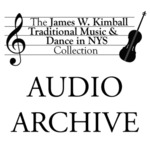 Files
Final Use Copy Filename
JKC_Fiddle_MaherClarence_19880731_94_merged
Identifier
JKC_Fiddle_MaherClarence_19880731_2of2
Field Notes URL
JKC_Fiddle_MaherClarence_19880731_FieldNotes.pdf
Abstract
This is an interview with Clarence Maher, Mary O'Rourke, and John O'Rourke. Clarence plays various songs then he discusses its history, where he performed it, and what musicians where at the event. Mary, John, and Clarence talk about how Clarence's career affected the family.
Cassette Video #
017_013 & 017_014
Digitization Notes
Kimball intro louder than rest of recording
KC Comments
Includes notes by Jim at end on the "right and left through" dance figure, and a recap of Clarence's story of playing for a Ukrainian dance and wedding in Rochester c. 1931-1932.
Location
Artist's Home, Bergen, NY; Genesee County
Instruments
Fiddle, Piano
Publication Date
10-1-2021
Rights
College Archives, State University of New York at Geneseo
Source
State University of New York at Geneseo
Artists and Specialties
Clarence Maher - Fiddle; Mary O'Rourke; John O'Rourke; James "Jim" W. Kimball, piano
Interviewer(s)
James "Jim" W. Kimball
Recommended Citation
Kimball, James W., "Interview with Clarence Maher, Mary O'Rourke, & John O'Rourke, Bergen, NY, July 1988 (2 of 2)" (2021). KimballARCH Audio. 342.
https://knightscholar.geneseo.edu/kimball_arch_audio/342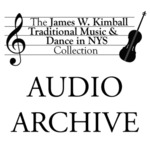 COinS