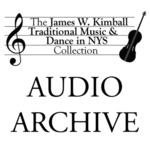 Final Use Copy Filename
JKC_HammerDulcimer_VanArsdalePaul_19930609
Identifier
JKC_HammerDulcimer_VanArsdalePaul_19930609
Abstract
There are two performances on this recording. [0:00-37:16] The first performance is with Paul VanArsdale, Vic Kibler, and George Ward, probably at Old Songs Festival. The second performance is a Cajun band at Old Songs Festival.
Digitization Notes
Several instances throughout the tape attempts to catch up to itself creating a "pang" type sound Needs auto leveling
KC Comments
0:00-37:16, Hammer dulcimer with fiddle, guitar in a festival setting. Kimball gives date at the beginning as 6/9/1993 and Paul VanArsdale and Vic Kibler were identified on original tape as performer; George Ward is also performing. 37:21-End, 6/26/1993 Old Songs Festival, Cajun musicians.
Event Title
Old Songs Festival
Instruments
Accordion, Fiddle, Guitar, Hammer Dulcimer
Publication Date
10-1-2021
Rights
College Archives, State University of New York at Geneseo
Source
State University of New York at Geneseo
Artists and Specialties
Paul VanArsdale - Dulcimer;Victor "Vic" Fountain Kibler - Fiddle
Interviewer(s)
James "Jim" W. Kimball
Recommended Citation
Kimball, James W., "Performance with Paul VanArsdale, Victor "Vic" Fountain Kibler, and George Ward, 1993" (2021). KimballARCH Audio. 415.
https://knightscholar.geneseo.edu/kimball_arch_audio/415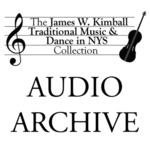 COinS