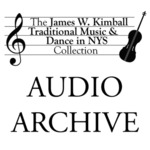 Final Use Copy Filename
JKC_Music_HallDave_199x_03
Identifier
JKC_Music_HallDave_199x_03
Abstract
This recording begins with an interview of antique store owners in LeRoy, NY, about the horning tradition. It continues with Dave Hall, who also talks about hornings.
Digitization Notes
Tape head warped on A, loud floor noise on A,
KC Comments
0:00-15:42: Husband and wife, owners of an antique store east of LeRoy, NY, Route 5, talk about hornings in the Honeoye Falls area, a tradition of a group surprising a couple on their wedding night by arriving with noisemakers, pranks, songs and music, etc. intended to rouse the couple. 15:44-End, Dave Hall and wife talking about hornings.
Location
Geneseo, NY; Livingston County and LeRoy, NY; Genesee County
Publication Date
10-1-2021
Rights
College Archives, State University of New York at Geneseo
Source
State University of New York at Geneseo
Artists and Specialties
Dave Hall
Interviewer(s)
James "Jim" W. Kimball
Recommended Citation
Kimball, James W., "Interviews with Leroy Antique Store Owners, LeRoy NY and with David "Dave" Hall, Geneseo, NY, 1990's" (2021). KimballARCH Audio. 449.
https://knightscholar.geneseo.edu/kimball_arch_audio/449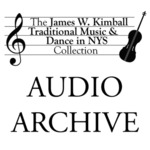 COinS