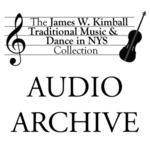 Files
Download
.WAV Original Audio File (1044.8 MB)
Final Use Copy Filename
JKC_Music-Dance_PenfieldBrothers_1945_2of3
Identifier
JKC_Music-Dance_PenfieldBrothers_1945_2of3
Abstract
This is a copy of a wire recording of Howard and Leonard Penfield performing square dance music and calling.
Digitization Notes
Unsure if these three tapes are all the same copy or part of a series. CONFIRMED ALL THREE TAPES ARE SAME BY MTS THIS WAS THE COPY USED TO DIGITZE
KC Comments
Copy of a wire recording of the Howard and Leonard Penfield of Randolph, NY. The Penfield Brothers were a dance band active in the 1940's. Jim Kimball got the recording from Norm Carlson.
Collection
Sound Recordings
Location
Randolph, NY; Cattaraugus County
Publication Date
10-1-2021
Rights
College Archives, State University of New York at Geneseo
Source
State University of New York at Geneseo
Artists and Specialties
Howard Penfield - Fiddle; Leonard Penfield - Calling
Recommended Citation
Kimball, James W., "Studio Recording with Howard and Leonard Penfield, Randolph, NY, 1945" (2021). KimballARCH Audio. 500.
https://knightscholar.geneseo.edu/kimball_arch_audio/500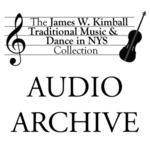 COinS