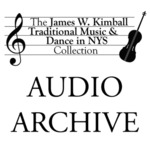 Final Use Copy Filename
JKC_Music-Dance_WoodworthEllison_19960922
Identifier
JKC_Music-Dance_WoodworthEllison_19960922
Abstract
This recording is mainly an interview with Ellison Woodworth in 1996, and a copy of a portion of the 1993 interview elsewhere in the collection. It is interrupted briefly by a classical vocal singer recording, 6:25-9:32.
Digitization Notes
First 9 mins on A - woman singing w/piano, reel-reel dub . Very low volume, lots of floor noise
KC Comments
0:00- 6:24 Jim Kimball announces at the beginning that it is an interview with Arnie DeMarsh's father in Palmyra, but on review Jim identifies this as Ellison Woodworth. The date is either September or December 22, 1996. 6:25-9:32: partial recording of a voice recital. 9:33- interview resumes with Ellison Woodworth, all or some a copy of the January 18, 1993 interview.
Location
Palmyra, NY; Wayne County
Publication Date
10-1-2021
Rights
College Archives, State University of New York at Geneseo
Source
State University of New York at Geneseo
Artists and Specialties
Ellison H. Woodworth - Fiddle
Interviewer(s)
James "Jim" W. Kimball
Recommended Citation
Kimball, James W., "Interview with Ellison Woodworth & family, Palmyra, NY, 1996" (2021). KimballARCH Audio. 538.
https://knightscholar.geneseo.edu/kimball_arch_audio/538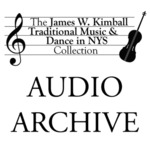 COinS