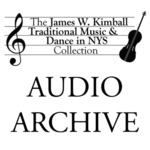 Final Use Copy Filename
JKC_Music-Ethnic_198x
Identifier
JKC_Music-Ethnic_198x
Abstract
This recording has an interview and singing performances. [0:00-16:12] The interview is with Izell Wimes. [16:13-21:39] The first performance is of the Catalano family. [21:40-26:24] The second performance is Vietnamese women singing several songs. [26:25-35:29] The third performance is of children.
Digitization Notes
Reel to Reel dub, levels change throughout
KC Comments
0:00-16:12: Izell Wimes, born in Alabama, was 46 and a migrant worker at the time of recording, and either lived in or performed in Portageville, NY. He sings several Gospel songs. 16:13-The Catalano family was an Italian family from Syracuse, singing traditional songs and hymns in Italian. 21:40-26:24: Woman singing in Vietnamese; 26:25- Interviewer youth and children/youth volunteers singing versions of "McDonald's Song" jingle and "Jingle Bells" from Long Island, Rochester and Buffalo regions. They also try to remember the original version.
Collection
Sound Recordings
Category
Personal Recordings
Publication Date
10-1-2021
Rights
College Archives, State University of New York at Geneseo
Source
State University of New York at Geneseo
Artists and Specialties
Izell Wimes - Vocals; Anh Truong Demott - Vietnamese (Children's?) Songs
Interviewer(s)
James "Jim" W. Kimball
Recommended Citation
Kimball, James W., "Several Interviews and Performances, 1980s" (2021). KimballARCH Audio. 539.
https://knightscholar.geneseo.edu/kimball_arch_audio/539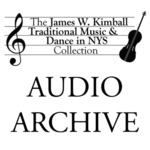 COinS