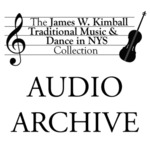 Final Use Copy Filename
JKC_Caller_HamiltonMark_19930307
Identifier
JKC_Caller_HamiltonMark_19930307
Abstract
This is an informal performance by Marvin "Mark" Hamilton in Jim Kimball's college classroom, ending with a conversation between him, the Kimballs and Katie Hamilton at the Kimball home..
Digitization Notes
Poor audio quality. floor noise, low volume, and motor noise. Tried to improve quality.
KC Comments
Mark Hamilton reminiscing and playing music in Jim Kimball's class. Includes conversation with Mark, Katie Hamilton and Lisa Kimball after the class.
Location
SUNY Geneseo, Geneseo, NY; Livingston County
Instruments
Accordion, Fiddle, Piano
Publication Date
10-1-2021
Rights
College Archives, State University of New York at Geneseo
Source
State University of New York at Geneseo
Artists and Specialties
Marvin "Mark" Hamilton - Calling, Fiddle, Vocals; James "Jim" W. Kimball - Piano, Accordion,
Interviewer(s)
James "Jim" W. Kimball
Recommended Citation
Kimball, James W., "Mark Hamilton SUNY Classroom Visit, Geneseo NY, March 1993" (2021). KimballARCH Audio. 67.
https://knightscholar.geneseo.edu/kimball_arch_audio/67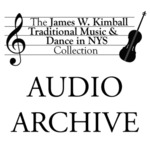 COinS