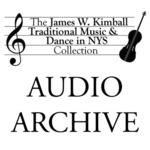 Files
Final Use Copy Filename
JKC_Caller_KnoxRoger_19880112_16_merged
Identifier
JKC_Caller_KnoxRoger_19880112_1of2
Field Notes URL
JKC_Caller_LilesClyde_19900601_FieldNotes.pdf
Abstract
This is an interview with Roger Knox who talks about places he performed based upon recordings he shows to James "Jim" Kimball.
Digitization Notes
loud noise floor. hard to hear conversation, sounds like they're listening to recordings and discussing them? Lots of background noise
KC Comments
Interview includes Jim and Roger looking and listening to dance footage and discussing square dance and contra dance. There is not any particular reference to a birthday event.
Location
Ithaca, NY; Tompkins County
Instruments
Accordion, Fiddle
Publication Date
10-1-2021
Rights
College Archives, State University of New York at Geneseo
Source
State University of New York at Geneseo
Artists and Specialties
Roger Knox
Interviewer(s)
James "Jim" W. Kimball
Recommended Citation
Kimball, James W., "Interview with Roger Knox, Ithaca, NY, January, 1988 (1 of 2)" (2021). KimballARCH Audio. 75.
https://knightscholar.geneseo.edu/kimball_arch_audio/75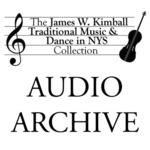 COinS