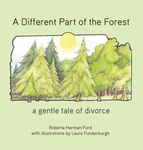 Description
The second in the Old Elbows series, A Different Part of the Forest: a Gentle Tale of Divorce, tells the story of the love parents have for their children even through separation and divorce. The story recounts the early days of a young tree family, emphasizing how much the parents and grandparents care for their young saplings. The parents patiently answer their children's questions, fears, and anxiety, explaining logistics such as where they will live and acknowledging their sadness. The children are taught that their new family arrangement will be just as loving, supportive, and safe.
Publisher
Milne Library Publishing
Recommended Citation
Ford, Roberta Harman, "A Different Part of the Forest: a gentle tale of divorce" (2017). Old Elbows. 1.
https://knightscholar.geneseo.edu/old-elbows/1
Creative Commons License

This work is licensed under a Creative Commons Attribution-Noncommercial-Share Alike 3.0 License.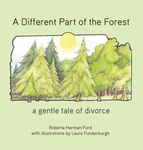 COinS