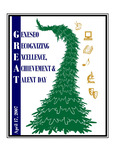 Title
Description
SUNY Geneseo's First Annual G.R.E.A.T. Day.
Publication Date
8-22-2023
Keywords
Presentations, Posters, Symposia, Undergraduate research, humanities, science, social sciences, poster presentations
Identifier
GD0001_2007_GREATDay_Program
Contents
Table of Contents
Schedule of Events
Artwork Exhibits
Poster Presentations
Concurrent Presentations
Keynote Address
Dance Performances
Index of Student Participants
Keynote Title
"Through a Fly's Eyes: Addressing Diversity in our Creative, Research, and Scholarly Endeavors"
Keynote Speaker
Lynn Weber, Ph.D.
Keynote Description
Dr. Weber is the Director of the Women's Studies Program and Professor of Sociology at the University of South Carolina. Her research and teaching have explored the intersections of race, class, gender, and sexuality for over 20 years. For this work she received ...[for the complete abstract, download the PDF.]
Keynote Sponsors
The Jack '76 and Carol '76 Kramer Endowed Lectureship
Event Organizers
THE G.R.E.A.T. DAY PLANNING COMMITTEE:
Doug Anderson, School of the Arts
Anne Baldwin, Sponsored Research
Joan Ballard, Department of Psychology
Anne Eisenberg, Department of Sociology
Charlie Freeman, Department of Physics & Astronomy
Tom Greenfield, Department of English
Anthony Gu, School of Business
Koomi Kim, School of Education
Andrea Klein, Scheduling and Special Events
Cover Art Creator
Ed Antkoviak, Duplicating Center
Publisher
State University of New York at Geneseo
Dimensions
8.50 x 11.00 in
Filename
GD0001_2007_GREATDay_Program.pdf
File Software
Acrobat PDFMaker 7.0.7 for Word
Source
State University of New York College, Geneseo/ Fraser Hall Library/ College Archives/ archive LD3840.G4k G73
Rights
© State University of New York at Geneseo.
This item is protected by copyright. You may use this item as permitted by the copyright and applicable rights legislation. For other uses, the written permission of the copyright owners may be required for distribution or reproduction beyond that allowed by fair use. All responsibility for obtaining permissions, and for any use rests exclusively with the user. Please contact libraryhelp@geneseo.edu for any questions or requests.
Please cite as: College Archives, Milne Library, State University of New York at Geneseo.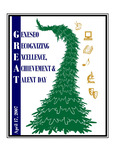 COinS