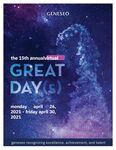 Title
Description
SUNY Geneseo's Fifteenth Annual GREAT Day.
Publication Date
8-25-2023
Keywords
Presentations, Posters, Symposia, Undergraduate research, humanities, science, social sciences, poster presentations
Identifier
GD0016_2021_GREATDay_Program
Contents
Table of Contents
GREAT Day Honors
Proceedings of GREAT Day
Keynote Address
Session Presentation Abstracts
Poster Presentation Abstracts
Artwork
Index of Presenters and Sponsors
Acknowledgements
Keynote Title
"Light of the Stars: Seeing Climate Change and the Human Future in Our Universe Awash in Worlds"
Keynote Speaker
Dr. Adam Frank
Keynote Description
We humans, with our "project of civilization" are a kind of cosmic teenager. We have power over ourselves, and the planet, but no model to follow. In this talk Prof. Frank shows how our fate can best be understood in light of the stars. Thanks to the revolutionary field of astrobiology...[for the complete abstract, download the PDF.]
Keynote Sponsors
The Jack '76 and Carol '76 Kramer Endowed Lectureship
Event Organizers
THE GREAT DAY ADVISORY COUNCIL
Lytton Smith, Center for Integrative Learning
Anne Baldwin, Sponsored Research
Ganie DeHart, Psychology
Graham Drake, English
Jonathan Grunert, Milne Library
Corey Ha, Milne Library
Caroline Haddad, Mathematics
John Haley, Administrative Systems
Matthew Johnson, Communications and Marketing
Lisa Meyer, Edgar Fellows
Amanda McCarthy, Advancement
Susan Salmon, School of Education
Paul Schacht, English
Aaron Steinhauer, Physics & Astronomy
THE GREAT DAY TECHNICAL TEAM
Joe Dolce, Computing & Information Technology Jonathan Grunert, Milne Library
Adam Klinges, Computing & Information Technology
GREAT DAY STUDENT TEAM
Paige Closser
Lia Wortsman
Tarryn Franciosa
Alexis DeRaiche
Cover Art Creator
Kristen Matteo, Crescendo Design Studio, LLC
Publisher
State University of New York at Geneseo
Dimensions
8.50 x 11.00 in
Filename
GD0016_2021_GREATDay_Program.pdf
File Software
Acrobat PDFMaker 11 for Word
Source
State University of New York College, Geneseo/ Fraser Hall Library/ College Archives/ archive LD3840.G4k G73
Rights
© State University of New York at Geneseo. This item is protected by copyright. You may use this item as permitted by the copyright and applicable rights legislation. For other uses, the written permission of the copyright owners may be required for distribution or reproduction beyond that allowed by fair use. All responsibility for obtaining permissions, and for any use rests exclusively with the user. Please contact libraryhelp@geneseo.edu for any questions or requests. Please cite as: College Archives, Milne Library, State University of New York at Geneseo.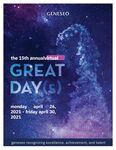 COinS