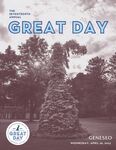 Title
Description
SUNY Geneseo's Seventeenth Annual GREAT Day. Geneseo Recognizing Excellence, Achievement & Talent Day is a college-wide symposium celebrating the creative and scholarly endeavors of our students. http://www.geneseo.edu/great_day
Publication Date
8-25-2023
Keywords
Presentations, Posters, Symposia, Undergraduate research, humanities, science, social sciences, poster presentations
Identifier
GD0018_2023_GREATDay_Program
Contents
Table of Contents
Schedule of Events
GREAT Day Honors & Proceedings of GREAT Day
The Jack '76 and Carol '76 Kramer Endowed Lectureship
Music Festival/Performances
GREAT Day Artists Exhibit
Dance Performances
GIFF: Geneseo Insomnia Film Festival & Awards Ceremony
Concurrent Sessions
Poster Presentations
Index of Student Participants and Sponsors
Acknowledgements
Poster Map
Keynote Title
"The Rumbling of Holy Places: Protecting the Sacred/Ecological"
Keynote Speaker
Wendsler Nosie Sr. Ph.D., Educator and Director of the Apache Stronghold
Keynote Description
Wendsler Nosie Sr., Ph.D., is a former Peridot District Councilman and Tribal Chairman of the San Carlos Apache Tribe, which consists of nearly 17,000 tribal members on the San Carlos Apache Reservation in southeastern Arizona. He is a Professor in the Practice of Indigenous ...[for the complete abstract, download the PDF.]
Keynote Sponsors
The Jack '76 and Carol '76 Kramer Endowed Lectureship
Event Organizers
THE GREAT DAY ADVISORY COUNCIL:
Ganie DeHart, Psychology
Graham Drake, English
Caroline Haddad, Mathematics
John Haley, Administrative Systems
Matthew Johnson, Communications and Marketing
Amanda McCarthy, Advancement
Lisa Meyer, Edgar Fellows
Daniel Ross, Fraser Library
Susan Salmon, School of Education
THE GREAT DAY STAFF TEAM
Anne Baldwin, Sponsored Research
Alexis Clifton, Teaching and Learning Center
Andrea Klein, Scheduling and Events
Betsy Colón, Grants Management
Paul Jackson, Computing & Information Technology
Chip Matthews, Student Life
Melanie Medeiros, Center for Integrative Learning
Sheila McCart, Grants Management
Suzanna Rubright, Sponsored Research
GREAT DAY STUDENT TEAM:
Isabelle Covert, Center for Integrative Learning
Alexis DeRaiche, Sponsored Research
Liz Haley, Scheduling and Events
Lia Wortsman, Sponsored Research
Cover Art Creator
Joanna Walters '13
Publisher
State University of New York at Geneseo
Dimensions
8.50 x 11.00 in
Filename
GD0018_2023_GREATDay_Program.pdf
File Software
Microsoft® Word for Microsoft 365
Event Software
Oxford Abstracts | The Academic Conference Platform
Source
State University of New York College, Geneseo/ Fraser Hall Library/ College Archives/ archive LD3840.G4k G73
Rights
© State University of New York at Geneseo. This item is protected by copyright. You may use this item as permitted by the copyright and applicable rights legislation. For other uses, the written permission of the copyright owners may be required for distribution or reproduction beyond that allowed by fair use. All responsibility for obtaining permissions, and for any use rests exclusively with the user. Please contact libraryhelp@geneseo.edu for any questions or requests. Please cite as: College Archives, Milne Library, State University of New York at Geneseo.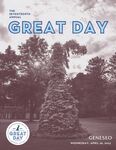 COinS