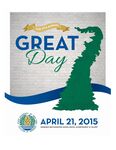 Title
Description
SUNY Geneseo's Ninth Annual GREAT Day.
Publication Date
8-25-2023
Keywords
Presentations, Posters, Symposia, Undergraduate research, humanities, science, social sciences, poster presentations
Identifier
GD0010_2015_GREATDay_Program
Contents
Table of Contents
Schedule of Events
Artwork Exhibits
Dance Performances
Poster Abstracts
Poster Map
Chamber Music Festival
Concurrent Presentations
Concurrent Presentations Quick View Guide
Keynote Address
Special Presentations
Insomnia Film Festival
Index of Student Participants and Faculty/Staff Sponsors
Keynote Title
"Freedom Now: The Mississippi Freedom Movement In History And Memory"
Keynote Speaker
James T. Campbell
Keynote Description
Organization of American Historians Distinguished Lecturer James T. Campbell describes himself as "an historian of the Black Atlantic." His research explores American, African American, and African history and the dense web of connections between them. His ...[for the complete abstract, download the PDF.]
Keynote Sponsors
The Jack '76 and Carol '76 Kramer Endowed Lectureship
Event Organizers
THE GREAT DAY FACULTY ADVISORY COUNCIL: Joan Ballard, Psychology Sid Bosch, Biology David Levy, Edgar Fellows and Philosophy Jennifer Lofkrantz, History Graham Drake, English Susan Salmon, School of Education Aaron Steinhauer, Physics & Astronomy THE GREAT DAY COMMITTEE: Anne Baldwin, Sponsored Research Tammy Hill, Campus Scheduling and Special Events Andrea Klein, Campus Scheduling and Special Events Alexis Annitto, GREAT Day Intern Samuel Dole, Chamber Music Festival Coordinator Chelsea Butkowski, Art Coordinator Tushara Surapaneni , Student Association Daniel Ross, Milne Library Patty Hamilton-Rodgers, GREAT Day Coordinator
Cover Art Creator
Joanna Walters '13
Publisher
State University of New York at Geneseo
Dimensions
8.50 x 11.00 in
Filename
GD0010_2015_GREATDay_Program.pdf
File Software
Microsoft® Word 2013
Source
State University of New York College, Geneseo/ Fraser Hall Library/ College Archives/ archive LD3840.G4k G73
Rights
© State University of New York at Geneseo. This item is protected by copyright. You may use this item as permitted by the copyright and applicable rights legislation. For other uses, the written permission of the copyright owners may be required for distribution or reproduction beyond that allowed by fair use. All responsibility for obtaining permissions, and for any use rests exclusively with the user. Please contact libraryhelp@geneseo.edu for any questions or requests. Please cite as: College Archives, Milne Library, State University of New York at Geneseo.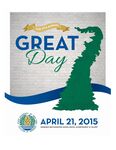 COinS