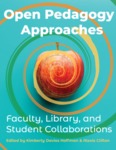 Files
Download Editor's Preface (234 KB)
Download Foreword (256 KB)
Download Introduction (2.0 MB)
Download Evolving Into the Open (410 KB)
Download Informed Open Pedagogy... (321 KB)
Download Approaching Open Pedagogy... (351 KB)
Download Open Pedagogy Big and Small (339 KB)
Download Adapting Open Educational Course Materials... (961 KB)
Download Reading British Modernist Texts (1.6 MB)
Download Humanities in the Open (319 KB)
Download A 2-for-1 Deal (446 KB)
Download Mathematics Courses and the Ohio Open... (2.2 MB)
Download Library Support for Scaffolding... (352 KB)
Download Sharing the End of the World (342 KB)
Download Teaching Wikipedia (328 KB)
Download "And Still We Rise" (6.4 MB)
Download Building a Collection of Openly Licensed... (1.7 MB)
Download Whose History? (385 KB)
Download Scholarly Bridges (476 KB)
Download Harnessing the Power... (2.5 MB)
Download Open Pedagogical Practices to Train... (368 KB)
Download Open Pedagogical Design for Graduate (309 KB)
Download Adventures in a Connectivist MOOC... (1.1 MB)
Download Invitation to Innovation (8.6 MB)
Download "What If We Were To Go?" (463 KB)
Download Glossary (291 KB)
Description
Open Pedagogy Approaches: Faculty, Library, and Student Collaborations is a collection of case studies from higher education institutions across the United States. An open educational resource (OER) in its own right, it offers a diverse compilation of OER and open pedagogy projects grounded in faculty, library, and student collaborations. Open Pedagogy Approaches provides ideas, practical tips, and inspiration for educators willing to explore the power of open, whether that involves a small innovation or a large-scale initiative.
Particularly during this pandemic, as libraries struggle against publisher limitations to offer traditional print texts in e-format, libraries are a natural partner in the creation and facilitation of open educational resources and practices. "Going open" offers innovative alternatives that can equitably shift the culture of student access and empowerment in learning.
List of chapters:
Editor's Preface / Alexis Clifton
Foreword / Robin DeRosa
Introduction / Kimberly Davies Hoffman, Robert Berkman, Deborah Rossen-Knill, Kristen Totleben, Eileen Daly-Boas, Alexis Clifton, Moriana Garcia, Lev Earle, and Joe Easterly
Evolving into the Open: A Framework for Collaborative Design of Renewable Assignments / Stacy Katz and Jennifer Van Allen
Informed Open Pedagogy and Information Literacy Instruction in Student-Authored Open Projects / Cynthia Mari Orozco
Approaching Open Pedagogy in Community and Collaboration / Caroline Sinkinson and Amanda McAndrew
Open Pedagogy Big and Small: Comparing Open Pedagogy Efforts in Large and Small Higher Education Settings / Shanna Hollich and Jacob Moore
Adapting Open Educational Course Materials in Undergraduate General Psychology: A Faculty-Librarian-Student Partnership / Dennis E. Schell, Dorinne E. Banks, and Neringa Liutkaite
Reading British Modernist Texts: A Case in Open Pedagogy / Mantra Roy, Joe Easterly, and Bette London
Humanities in the Open: The Challenges of Creating an Open Literature Anthology / Christian Beck, Lily J. Dubach, Sarah A. Norris, and John Venecek
A 2-for-1 Deal: Earn Your AA While Learning About Information Literacy Using OER / Mary Lee Cunill, Sheri Brown, and Tia Esposito
Mathematics Courses and the Ohio Open Ed Collaborative: Collaborative Course Content Building for Statewide Use / Daniel Dotson, Anna Davis, Amanda L. Folk, Shanna Jaggars, Marcos D. Rivera, and Kaity Prieto
Library Support for Scaffolding OER-enabled Pedagogy in a General Education Science Course / Lindsey Gumb and Heather Miceli
Sharing the End of the World: Students' Perceptions of Their Self-Efficacy in the Creation of Open Access Digital Learning Objects / Sarah Hutton, Lisa Di Valentino, and Paul Musgrave
Teaching Wikipedia: A Model for Critical Engagement with Open Information / Amanda Koziura, Jennifer M. Starkey, and Einav Rabinovitch-Fox
"And Still We Rise": Open Pedagogy and Black History at a Rural Comprehensive State College / Joshua F. Beatty, Timothy C. Hartnett, Debra Kimok, and John McMahon
Building a Collection of Openly Licensed Student-Developed Videos / Ashley Shea
Whose History?: Expanding Place-Based Initiatives Through Open Collaboration / Sean D. Visintainer, Stephanie Anckle, and Kristen Weischedel
Scholarly Bridges: SciComm Skill-Building with Student-Created Open Educational Resources / Carrie Baldwin-SoRelle and Jennifer M. Swann
Harnessing the Power of Student-Created Content: Faculty and Librarians Collaborating in the Open Educational Environment / Bryan James McGeary, Ashwini Ganeshan, and Christopher S. Guder
Open Pedagogical Practices to Train Undergraduates in the Research Process: A Case Study in Course Design and Co-Teaching Strategies / Stephanie N. Lewis, Anne M. Brown, and Amanda B. MacDonald
Open Pedagogical Design for Graduate Student Internships, A New Collaborative Model / Laurie N. Taylor and Brian Keith
Adventures in a Connectivist MOOC on Open Learning / Susan J. Erickson
Invitation to Innovation: Transforming the Argument-Based Research Paper to Multimodal Project / Denise G. Malloy and Sarah Siddiqui
"What If We Were To Go?": Undergraduates Simulate the Building of an NGO From Theory To Practice / Kimberly Davies Hoffman, Rose-Marie Chierici, and Amanda Spence
Publisher
Milne Library Publishing
Keywords
open pedagogy, OER, library instruction, higher education, project-based learning
Recommended Citation
Hoffman, Kimberly Davies and Clifton, Alexis, "Open Pedagogy Approaches: Faculty, Library, and Student Collaborations" (2020). Geneseo Authors. 11.
https://knightscholar.geneseo.edu/geneseo-authors/11
Creative Commons License


This work is licensed under a Creative Commons Attribution 4.0 License.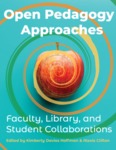 COinS