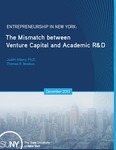 Description
The Entrepreneurship in New York study is a joint venture of the SUNY Levin Institute, the Research Foundation of SUNY, and SUNY Geneseo. This study shows that New York now commands a larger share of national venture investment than in past studies. Although, within this picture a significant disconnect is revealed. New York's strong performance in academic R&D in the sciences stands in contrast with the relatively modest amounts of private investment available to move these innovations forward commercially.
In 2012, 85% of the venture capital invested in New York State firms was invested in information technology and creative and commerce services, while 15% was invested in the life and physical sciences. By contrast, 89% of academic R&D expenditures in New York State were in the life and physical sciences, with only small amounts invested in IT.
Authors Judith Albers, PhD, and Thomas R. Moebus feature important data and analysis that conclude increased investment in the life and physical sciences are needed. They identify specific opportunities for NYC and other investors that emerge as part of START-UP NY and other state initiatives.
Publication Date
12-1-2013
Publisher
Milne Library Publishing
Recommended Citation
Albers, Judith Ph.D. and Moebus, Thomas R., "Entrepreneurship in New York: The Mismatch between Venture Capital and Academic R&D" (2013). Geneseo Authors. 3.
https://knightscholar.geneseo.edu/geneseo-authors/3
Creative Commons License


This work is licensed under a Creative Commons Attribution-Noncommercial-Share Alike 3.0 License.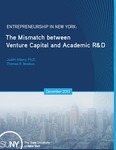 COinS