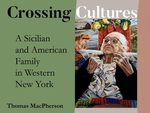 Description
Crossing Cultures by visual artist Thomas MacPherson is a graphic narrative spanning generations of two immigrant families: one Sicilian and one Scottish.
Unlike most Italian immigrants at the time the author's family settled in small town America and struggled for acceptance while confronted with local prejudices. The book tells stories of hardships faced by a family at the boundaries of Italian and American cultures, and examines the intersection with German and Scottish Americans as the family married out of the circle of Sicilian immigrants.
Alongside the story of MacPherson's Sicilian family is the MacPherson's journey to assimilation and establishment of a dominant culture to which the new immigrants had to conform, and a look into the science of DNA and how genetic information brings light to the cultures of the two families.
These character studies are a compelling blend of oral history, direct observation, family photographs, original egg tempera and oil portrait paintings, and far-reaching historical events that shaped lives in the nineteenth and twentieth centuries.
Publication Date
1-1-2016
Publisher
Milne Library Publishing
Recommended Citation
MacPherson, Thomas, "Crossing Cultures: A Sicilian and American Family in Western New York" (2016). Geneseo Authors. 8.
https://knightscholar.geneseo.edu/geneseo-authors/8
Creative Commons License


This work is licensed under a Creative Commons Attribution-Noncommercial-Share Alike 3.0 License.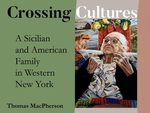 COinS