This site serves as the archival home for Gandy Dancer. For current issues and submission information, visit www.gandydancer.org.
Gandy Dancer is a literary magazine, available online and in print, that publishes fiction, poetry, creative nonfiction, and visual art. Edited by a rotating staff of students at SUNY Geneseo, Gandy Dancer is published twice yearly.
Current Issue: Volume 7, Issue 2 (2019) Best of Gandy Dancer 2012-2018
Dearest Readers,
The art, fiction, nonfiction and poetry feature in this issue represent the best work published over Gandy Dancer's first six years.
To a thousand thousand more,
Jen Galvão and Noah Mazer
April 2019
Poetry
Fiction
Creative Nonfiction
Art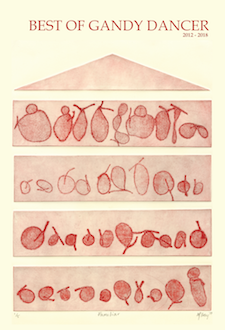 Masthead
Managing Editors

Jen Galvão and Noah Mazer

Faculty Advisor

Lytton Smith

Production Advisor

Allison Brown

Advisory Editors

Christy Agrawal, Dan DeZarn, Kristen Gentry, Rachel Hall, Courtney O'Gorman, Lucia LoTempio, Kathryn Waring

Special thanks to:

Special thanks to: Michele Feeley and the Parry family