Volume 9, Issue 2 (2021)
Dear Readers,
It gives us great pleasure to present our Spring issue. More than a full year has passed since the COVID-19 pandemic began, and we managed to work entirely remote once again this semester. Perhaps later issues of Gandy Dancer may be able to produce in-person soon. Until then, we are still extremely proud of the work that our staff has done and the art we've accepted for publication. We've learned that the sophistication of our journal and talent from our writers persists even remotely.
This issue examines various themes—from body image, to gender identity, to connection and misconnection. Rosalinda Valeri's piece "disappearing act of a secret" highlights the suffocating internal monolog of those struggling with eating disorders. The narrator writes, "some days when you look at yourself in the mirror, you feel reintroduced to your collarbone, your ribcage, your hip bones; everywhere there are bones you haven't known for years." Aliyha Gill's poem "White Wash" also considers our preoccupation with the body and certain prescriptions for beauty. The speaker says, "to my younger self, I wish to cradle you in my arms, / brown and beautiful as can be." We were enthralled by the imagery and understated tone used to convey loss in Nick Pattilio's story "A Perfect Day for Caiman Hunting." Pattilio describes a family who still sets a plate at the dinner table for their dead child, revealing how grief continues to plague this family.
Similarly, "grindr musings #1" by Kristian Grant also highlights loss, specifically what it's like to wonder about a past relationship: "when i think about us crossing paths / the edges of our circles brushing against each other / electrifying." In "midas touch," Kat Johnson explores the liberation of moving on, most notably through the lines "sometimes i remember the way liberation looked / when it was in someone who never gave me the time of day." We were moved by the honesty and newly claimed freedom. Likewise, Mollie Ward's exuberant paintings express freedom with their vibrant colors.
While reading this issue, we hope you will be similarly enthralled by the powerful voices and visions of these artists and writers. They claim control over their identities, exploring the agency that is granted through a keyboard, an oil pastel, or a pen and paper. We feel lucky and honored to have their work in our journal despite the challenges that came with this year. While we may be moving on from our roles co-managing editors, we know that Gandy Dancer will remain a safe space for creating.
Cheers,
Sara Devoe & Rebecca Williamson
May 2021
Poetry
Fiction
Creative Nonfiction
Art
Postscript
Review
Interview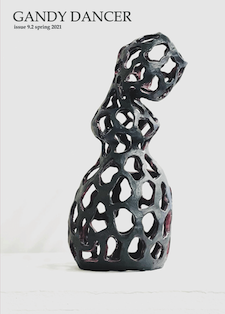 Editorial Team
Managing Editors

Sara Devoe, Rebecca Williamson

Fiction Editor

Maria Pawlak

Creative NonFiction Editors

Joseph Cartwright, Marissa Fillipello

Poetry Editor

Jenna Murray

Fiction Readers

Anne Baranello, Chase Boggs, Kathryn Capone, Conor Chivers, Will Kilada, Anthony Lyon

Creative Nonfiction Readers

Bridget Cain, Lara Mangino, Rebecca Perrotta, Jess Vance, Bianca Volpe

Poetry Readers

Christian Alfieri, Hailey Cullen, Hayley Jones, Sarah Sharples, Cassandra Walters

Faculty Advisor

Rachel Hall

Production Advisor

Allison Brown

Advisory Editors

Dan DeZarn, Lucia LoTempio, Lytton Smith, Kathryn Waring, Kristen Gentry, Michael Sheehan (Fredonia) and Mehdi Okasi (Purchase)

Special thanks to:

The Parry family, Albert Abonado
Cover photo: Flow by Kailey Maher