Volume 10, Issue 2 (2022)
Dear Readers,
As we write this introduction, birds sing and the last chill (hopefully) melts from the windows. Springtime is tiptoeing in—except for the few wild days when it stomps around in bright yellow rain boots or disappears behind a winter cloud. And we, your managing editors, are trying to figure out how to say goodbye without being very, very sappy.
It's a far cry from the early days of this semester. This winter, the Gandy Dancer staff set out to work on this spring issue with precaution, not sure what the semester would bring. COVID constantly reasserted itself even as maskless smiles were reintroduced. Snowstorms canceled classes, rainstorms brought floods, and yet, the weeks continued doggedly on. Sometimes, it feels like the only constant is uncertainty itself. In Western New York, springtime can fell a tree as easily as it softens the ground allowing for crocus, daffodils, tulips to bloom.
But while uncertainty continues to plague us (no pun intended), time has also brought new joy, surprising warmth, and unexpected community. Slowly, and then all at once, life adjusted to an almost-normal haze. College students braved the green in shorts, concerts and clubs found new life, and Gandy Dancer came together, our nineteenth issue.
We are proud to present the best that SUNY has to offer, pulling in excellent work from Albany, FIT, Purchase, Stony Brook, New Paltz, Oswego, Plattsburg, Fredonia, Potsdam, Binghamton, and, of course, Geneseo. Different genres harmonize to breathe life into themes of acceptance, parenthood, letting go of old hurts, and revival. Lidabel A. Avila's poem "Where My Head Lays" invites us to remember the importance of growing past the trappings of old lives, while El J. Ayala's "Dog Names" reminds us that life is a series of ups and downs, but with love and care, it's so worth it. Digging deeper still, a poem by Allyson Voerg calls us to shed old shame to instead "stand straight within / my own self sovereignty."
Throughout the issue, themes of rebirth climb to the surface like new saplings seeking sunlight. In this era, when the world is hoping COVID will soon be in the rearview mirror and peace is precarious, that rebirth can feel painful. It's a struggle, discarding old comforts for the unfamiliar. And that's why, at times like these, art is not only necessary, but a balm. Gandy Dancer hopes to be both and more—an atlas to understand old memories and a map to chart new paths, all at once.
It is our sincere hope that these thoughtful, engaging works provide something of substance to the uncertainty in your lives. With spring in the air and transformation around the corner, we want to say thank you for picking up (or clicking through) this issue. May your reading help release old habits, welcome new joys, or simply bring some needed comfort.
Your friends,
Maria Pawlak and Amina Diakite
Poetry
Fiction
Creative Nonfiction
Art
Postscript
Review
Interview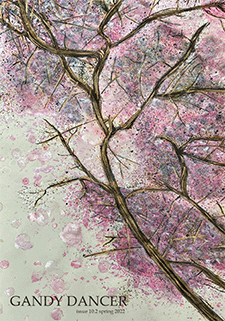 Editorial Team
Managing Editors

Amina Diakite, Maria Pawlak

Fiction Editors

Julia Grunes, Matthew Keller

Creative Nonfiction Editor

Alison DiCesare

Poetry Editor

Julia Yakowyna

Fiction Readers

Anne Baranello, Nathaniel Bedell, Madisun Edmond, Erika Powers, Taylor Tirabassi

Creative Nonfiction Readers

Amaya DiGiovanni, Jenna MacLeod, Jessica Marinaro, John Mattison, Julian Silverman, Thomas Skinnider

Poetry Readers

Regina Fuller, Iliana Papadopoulos, Walter Paskoff, Sparrow Potter, Daphne Xulu

Faculty Advisor

Rachel Hall

Production Advisor

Allison Brown

Advisory Editors

Dan DeZarn, Kristen Gentry, Lucia LoTempio, Mehdi Okasi (Purchase), Michael Sheehan (Fredonia), Lytton Smith, Kathryn Waring

Special thanks to:

The Parry family and Leslie Pietrzyk
Cover art: The Blossoming Beezlebub by Erik Carrigan