Geneseo Recognizing Excellence, Achievement, & Talent (GREAT) Day is a college-wide symposium celebrating the creative and scholarly endeavors of our students. In addition to recognizing the achievements of our students, the purpose of GREAT Day is to help foster academic excellence, encourage professional development, and build connections within the community.
Established in 2009, Proceedings of GREAT Day compiles and publishes promising student work presented at SUNY Geneseo's GREAT Day symposium. The projects, presentations, and research included here represent the academic rigor, multidisciplinary study, and creativity of the students taking part in the SUNY Geneseo GREAT Day symposium.
Current Volume: Volume 2022
GREAT Day & The Proceedings of GREAT Day
With each passing year comes change after change. The more we learn, the less we know, as they say–and with every change, the hunt to learn more presses on. The spirit of growth, learning, and creativity is readily apparent in
The Proceedings of GREAT Day
. This year's volume features works exploring the intricacies of John Milton's religious writing, the complexities of college office hours, the importance of positive patient-provider interactions in healthcare, and the history of modern dance. It also presents readers with a look at the complex relationship between deforestation and the spread of zoonotic viruses, the importance of women's reproductive health, the presence of patriarchal themes in English literature, and the imaginative ways people across the country are working together to illustrate the impacts of climate change. And what would GREAT Day be without an examination of the magic–and science–of pyramid power?
Articles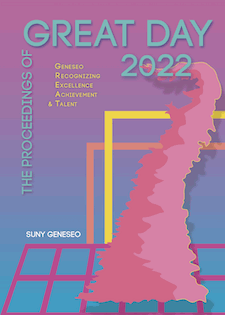 Editors
Editors

Hannah K. Lustyik '23
M. Sparrow Potter '23

Featured Former Editor

Quinten Seskin '22

Supervisors

Daniel Earl Ross '09, Head of Access Services
Max Sparkman, Research Instruction Librarian

Production Manager

Allison Brown, Digital Publishing Services Manager