Geneseo Recognizing Excellence, Achievement, & Talent (GREAT) Day is a college-wide symposium celebrating the creative and scholarly endeavors of our students. In addition to recognizing the achievements of our students, the purpose of GREAT Day is to help foster academic excellence, encourage professional development, and build connections within the community.
Established in 2009, Proceedings of GREAT Day compiles and publishes promising student work presented at SUNY Geneseo's GREAT Day symposium. The projects, presentations, and research included here represent the academic rigor, multidisciplinary study, and creativity of the students taking part in the SUNY Geneseo GREAT Day symposium.
Current Volume: Volume 2020
GREAT Day & The Proceedings of GREAT Day
In 2020, GREAT Day, like most academic events, could not happen on Geneseo's campus due to the novel coronavirus and ensuing pandemic. Nevertheless, the undergraduate symposium was successfully held in an unprecedented virtual format. This volume of
Proceedings of GREAT Day
is a representation of the diversity of scholarship presented at GREAT Day, from disciplines ranging from education, sociology, and math, to astronomy, history, and dance. It reflects the challenges of 2020 with articles addressing the novel coronavirus strain, propaganda, policing, and populism, and the resilience and wonder of GREAT Day presenters. Other research reflects a growing dependence on technology in advancing astronomy and mathematical research, as well as in secondary education classrooms. This volume also includes research on oppression and self-preservation, with articles addressing evolutionary behaviors, a critique of capitalism, water in South Africa, domestic violence, and French cultural identity. In addition to these articles, this issue contains interviews with College faculty and students heavily involved with GREAT Day. In all its content, this volume of
The Proceedings of GREAT Day
is reflective of the world around us, as it challenges us to consider new perspectives on a variety of topics that affect a diverse population.
Articles
Full Issue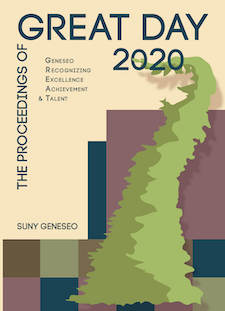 Editors
Editors

Jaime DeVita, Class of 2021
Ethan Owens, Class of 2022

Supervisor

Jonathan Grunert, Scholarly Communications Librarian, Milne Library

Production Manager

Allison Brown, Digital Publishing Services Manager, Milne Library