Geneseo Recognizing Excellence, Achievement, & Talent is a college-wide symposium celebrating the creative and scholarly endeavors of our students. In addition to recognizing the achievements of our students, the purpose of GREAT Day is to help foster academic excellence, encourage professional development, and build connections within the community.
Established in 2009, Proceedings of GREAT Day compiles and publishes promising student work presented at SUNY Geneseo's GREAT Day symposium. The projects, presentations, and research included here represent the academic rigor, multidisciplinary study, and creativity of the students taking part in the SUNY Geneseo GREAT Day symposium.
Current Volume: Volume 2018
GREAT Day & The Proceedings of GREAT Day
This volume of
The Proceedings of GREAT Day
reflects the breadth of scholarship and creativity present at Geneseo's GREAT Day. It represents a community that explores and values examinations of diversity and identity, explorations of the arts and human behaviors, and creative expression. The full array of creativity, research, and scholarship present at GREAT Day cannot be reproduced in a journal. Instead, this issue demonstrates a broad curiosity, driven by academic interest rather than confined to limited expertise. Articles in this issue range from postcolonial feminist critique to survey-driven analyses of attitudes and behaviors, from such diverse academic fields as psychology, literary and cultural studies, dance, communications, and music. Inadvertently, this issue contains articles on similar topics, though from different academic approaches, such as discussions of the complexity of identity in life and in fiction, cultural and social attitudes toward depictions of sexual violence, and the emotional and physical reactions to visual cues in popular film and television. This issue also contains creative works from GREAT Day, where artistic imaginings have moved from the mind to paper. In addition to articles, this issue contains interviews with the college president, the coordinator of GREAT Day, faculty sponsors, and student authors and presenters. In all its content, this volume of Proceedings of GREAT Day challenges disciplinary boundaries, opening the door for conversations from a wide range of academic fields and perspectives on current issues and topics that resonate with diverse populations.
Articles
Full Issue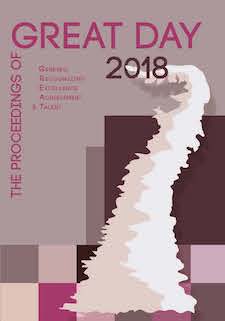 Editors
Editors

Nicole Callahan, Class of 2021
Dimitri Wing-Paul, Class of 2019

Supervisor

Jonathan Grunert, Scholarly Communications Librarian, Milne Library

Production Manager

Allison Brown, Digital Publishing Services Manager, Milne Library